MONDAY to FRIDAY -- 07:00 PM - 11:59 PM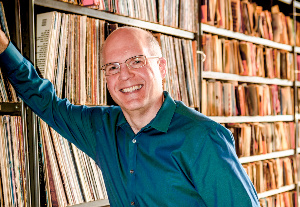 45's. LP's. CD's. I can't remember a time when music was not a part of my life. I acquired the "radio bug" at the age of five when my dad took me to Charlie's Record Shop, which was about five minutes from our house. I inherited my brother's Beatles records, and I constantly listened to them. The desire to work in broadcasting became cemented in my mind when my dad, along with my brother and a neighborhood kid named Joe, took a tour of WDRC when it was at 750 Main Street in Hartford when I was 10. I was so excited to get a promo copy of the Commodores' hit 45 "Machine Gun" pressed on red vinyl autographed by Dick Robinson, Bob Craig and Music Director Jim English. (And yes, I still have it today). My brother built a tiny transmitter that could reach the end of our street, and the three of us would play records in our basement and talk-up the intros like the DJ's did.
I was given the opportunity to work here in 1980, while I was still in high school. My first "job" was mailing out the weekly "Big D Dial A Hit" contest 45's every week. My "salary" consisted of 3 LP's a week! Who needed money, since LP's are what I would have spent it on anyway. I've been with WDRC for 34 years, but at least my "salary" changed!
I've done every shift and most every job imaginable in my broadcasting career…board operator, morning show producer, promotions, music scheduler, overnight operator, traffic and engineering assistant, all leading up to what I do now, on air personality from 6-midnight on 1029 the Whale, host of "The Big D is Back" weekend mornings from 6-10 on The Talk of Connecticut and 103.3 FM and working as the Production Director during the week.
When I was a boy, I listened to the radio and was amazed at how the  announcers seemed to be talking to ME. If I can connect with you the same way by making you laugh, giving you music info and the lifestyle news you need to get through your day, then I've done my job. Come hang with me weeknights from 6 to midnight on 1029 the Whale, Connecticut's Classic Rock, and weekend mornings from 6-10 on the Talk of Connecticut and 103.3 FM!