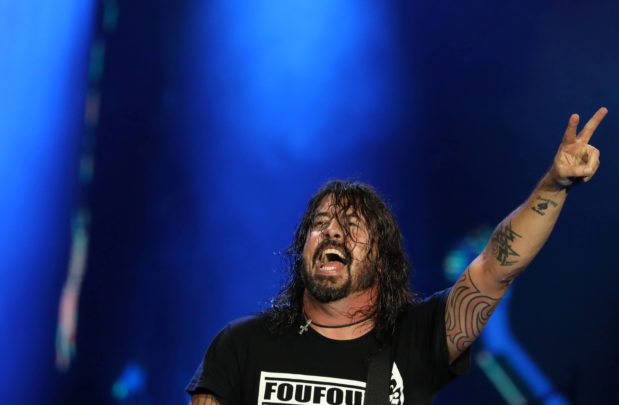 The Foo Fighters first full show since the pandemic started also brought out a wave of anti-vaccine protesters.
The club show at the Canyon Club in Agoura Hills, California on Tuesday night required proof of COVID-19 vaccination to purchase tickets, and several dozen protestors showed up with signs that said "Foo Fighters fight to bring segregation back" and "stop the hate in the vaccine debate."
Also on hand was former child actor and known anti-vaxxer Ricky Schroder. Schroder had posted about the concert's vaccine requirement on Facebook on June 13th, writing that "Dave Grohl is an ignorant punk who needs slapped for supporting Discrimination. Ignorance comes in all shapes & sizes. Kurt Cobain is laughing at you Dave along with Millions of Patriots."
Grohl didn't seem to be fazed by the protesters outside the club. Variety reports that when the Foos hit the stage he told the audience, "Tonight we're gonna play until the cops get called or I collapse." The band ended up playing a 23 song set that was a warm-up for the headline gig at New York's Madison Square Garden Sunday night for a fully vaccinated audience.
REUTERS PHOTO