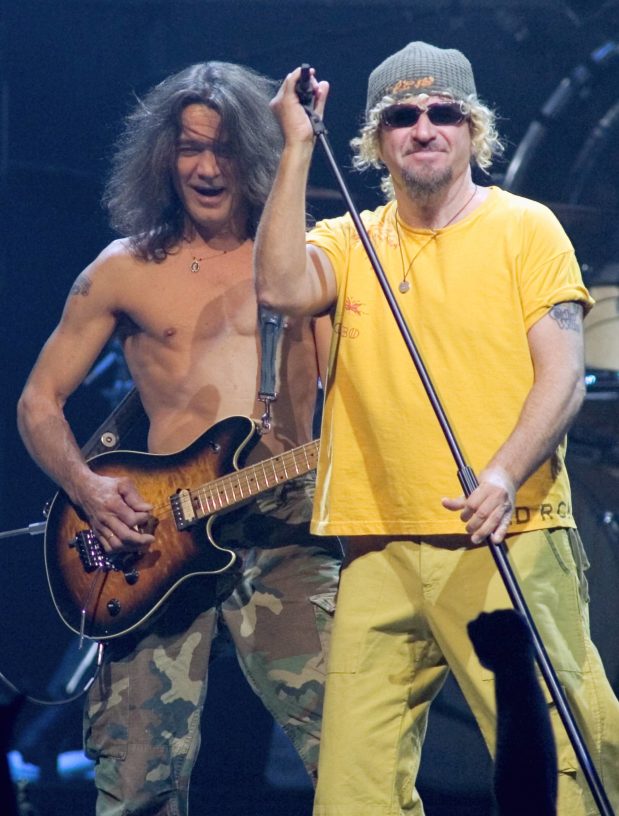 Today (June 16th, 1996) marks the 25th anniversary of Van Halen parting ways with their second singer, Sammy Hagar.
Following the death of their manager Ed Leffler, the band signed with Rush manager Ray Danniels, who, at the time, was Alex Van Halen's brother-in-law. He wanted them to do a "best of" album, which Hagar wanted no part of.
At the same time, they were asked to contribute a song to the soundtrack to the movie Twister. Hagar agreed, but when it was decided that one song would be featured on the soundtrack and another they recorded would go on the hits album, he wasn't pleased. This was compounded by the fact that the band was recording another new song for the hits album with former singer David Lee Roth.
Things then came to a head on Sunday, June 16th.
Here is Sammy Hagar talking about finding out he was booted from Van Halen.

"Eddie calls me up — it was actually on Father's Day in the morning — he says, 'We gotta talk man.' 'cause he felt guilty I guess. I don't blame him. He said, 'You never do what we want you to do. You're always doing whatever you want to do and you have never been cooperative.' I'm going, 'Wait a minute. We've co-wrote every song this band has done since 1986. We have a great writing relationship. What do you mean I never do what you guys want me to do? You know, as far as I'm concerned we've done everything right.' You know, it's like this is the first I've heard about this. And he said, 'So I've had it and I just went back and got David Lee Roth in the band.' And I just freaked out. That's how the whole thing happened. I thought this is the biggest betrayal I've ever seen."
News of the split broke in July that year with Hagar saying he was fired and Eddie claiming he quit.
In September, Van Halen appeared on the MTV Video Music Awards with Roth. However, Roth's antics that night pissed off Eddie and the reunion came to a grinding halt.
Best Of – Volume 1 was released in October 1996, and then the band turned their attention to Gary Cherone from Extreme, which were also managed by Ray Danniels.
Cherone recorded one album with the band, Van Halen III, before leaving in 1999.
Hagar and Van Halen patched things up for a 2004 reunion tour, but that ended with Sammy and Eddie at each other's throats due to Eddie's drinking.
They finally made peace at the beginning of last year, 10 months before Eddie passed from cancer at the age of 65.
In all, Hagar and Van Halen recorded four studio albums and one live collection.
REUTERS PHOTO
---